I'm not usually one for memes but I've quickly become obsessed with looking at Friday Favorites posts, hosted by Life Without Pink. Basically, you round up five of your fave posts of the week and share the love! It's a great way to pay it forward and even introduce you to some bloggers you've never met!
Here are the five post I enjoyed the most reading this week!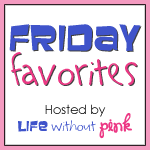 1. Grammar Gone Wild from All Things Fadra– After this post, Fadra and I are now bonded forever with the grammar high horses that we ride. She digs into the sad state of grammar these days and offers a few tips too. Plus, you really have to see the example pictures.
2. And Then There Were 3… Again from JennandTonica (What the blog?)– Imagine finding out you're having TRIPLETS, then learning you lost one of the babies. Now, imagine going to the doctor again only to be told all THREE babies have strong heartbeats. That's what happened and you don't want to miss this read.
3. Fun Friday: Make Mudcakes from Go Explore Nature– Debi and I become fast bloggy friends due to our love of the outdoors and all the stuff we have in common. I just love reading how her kids spent 1.5 hours making mudcakes. Talk about fun outdoor play! Plus, how often do we let kids make mudcakes this day and age?
4. Impossible to Fail Her from Mixed Mama Project– This blog is one of my newest favorites. I love reading about Erin's journey to motherhood. This post expresses her love for the little girl she's 10 weeks away from meeting.
5. It's Gonna Have Real Strings and Everything from Don't Take the Repeats–  I had no idea that tandem nursing, babywearing Marty had a secret life of being a gamer. I love this "pointless" post about the surprising side of a mom who loves to blow things up (in virtual worlds, of course).
If you've got time to read some more, head on over to Life Without Pink's blog and read some more Friday Favorites!